Having a car is almost every Indian's dream. You can finally stop worrying about how cold or hot it is outside and if your clothes will get all messed up because of the pollution! You don't have to trouble yourself with different vehicles for the whole family and I don't know how much stress should be given to this, but music on the go!! But what if the car you have becomes a bigger trouble than any of the problems I mentioned above? What if you have to worry about the car's mileage and the AC that stops working every second month and makes more noise than your new-born kid? It isn't as easy to maintain a car as to dream about having one. But that said, no one deserves a bad experience like that, of course many of us aren't able to afford new cars so we just have to continue with the same old boxes of steel with the not at all comfortable bags inside that people like to call seats. And to tackle that problem, we buy used cars.
I call buying a used car a win-win situation. You get what you want in a car you always dreamt of in a considerably lower price and the seller gets enough money to fund his new one. And probably that is why this business has grown a lot recently. If you look at it, many showrooms sell second-hand cars these days, but I personally can't get myself to like that. I have observed that as soon as the brand name kicks in, you are mostly asked for a bigger price, the trust factor is improved too, but is it worth the price? There are online websites too to sell stuff, which includes cars as well, but there you have to connect to the individual sellers. Now there you may get a lower price but you also face the risk of being conned. And not to mention the trollers and fake buyers and sellers that are there in huge numbers. But here's what I found as a one stop solution to that; what if I tell you that you can buy your new car at a lower price through an individual seller, but only after making sure that he's a genuine seller and you're getting a fair deal? Now that's what I'd call a win-win.
But hey, what about that old troublesome car I had? Well, here's the thing, with a few little tweaks, someone could make your old troublesome car into his dream car and give you the money with which you could fund your own dream car! So what am I talking about? I guess it's pretty obvious by now, it is Quikr NXT!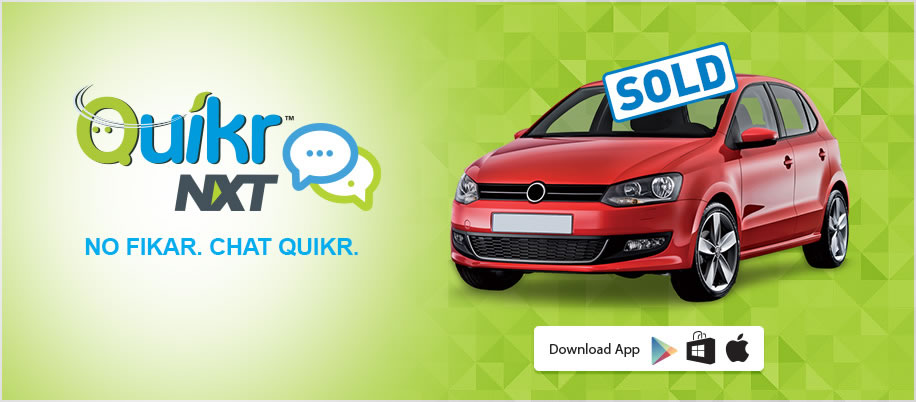 Quikr NXT, as I said in one post earlier as well, is a revolution to our e-commerce industry. You can sell and buy things and without any security concerns or having to share your number with the fake ones. So here's my guide to upgrading your car with Quikr NXT.
Let's begin with taking some cool pics of your old car. Now it may give you a little trouble, but it is your car, there's always an attachment. So put it up online on Quikr for sale and be honest in the ad. Ask for a reasonable price, make sure you disclose the issues, if any.
Wait for the ads to rain, and trust me, they will. Once I put up an ad on Quikr for an old washing machine. I received six calls within a day of placing the ad. And the best part, chat as per your convenience, you don't have to be disturbed with phone calls thanks to Quikr NXT!
Find out the best deal, talk to the buyer and bam! your car is sold. And you got some money that you could add to your fund for the next car.
So you made someone else's dream come true, now it's your turn. You could check out the ads that are there already and find the car you like. With the thousands of ads and so many filters and a clean UI and a superfast app, you've got to get a match.
Don't fret even if you can't find what you like, create your own alerts and ads to let people contact you if they have something you'd be interested in, sweet, isn't it?
Now let's say you found a good car. Although with Quikr you can always be sure that the seller is genuine, don't take the risk of going all in at once. First confirm from the seller about the car by chatting with him. If you both agree, talk and before you know it's time to see the car.
So what bothered you in the last car? Maybe it was good but you just didn't like how small it was, or you want a better mileage? It's time to check out if this car has it for you and if it does, what are you waiting for? Make it your before someone else steals the deal!
Personally, I'd go for a slightly bigger car as my family has more members now. Mileage is of course a primary requirement of every Indian, but I'd also love it if my new car has a better leg space and better clearance. The compact cars just don't work for me anymore (Or any guy who's a freaking 6'2")!
So did you see how easy it was for me to upgrade to a large spacious car from a compact one in a very limited budget, or for you to your own dream car through Quikr NXT? This is the beauty of it in my opinion. With the least amount of trouble and time and almost everything on the app, upgrading your car was never easier.
PS: Don't forget to buy some awesome accessories for the new one too. I don't need to tell you where to buy those from now, do I? J
PPS: Don't wait, go check out Quikr here: http://www.quikr.com/