I've kind of a sweet tooth, or as my mother puts it, "I'd rather spend my life packed in a box of sweets than live without one". And in my defense, this is only because of the amazing sweets that she makes at home. I'd any day prefer a homemade dessert over the ones we buy from the sweet shops. And for a long time I've seen my mom trying to explain her recipe to so many people who later mostly unsuccessfully attempt it. So when Indiblogger and Sugarfree Natura came up with the Sugar Free Dessert Challenge, I just had to share my mother's amazing Five Star recipe with all of you.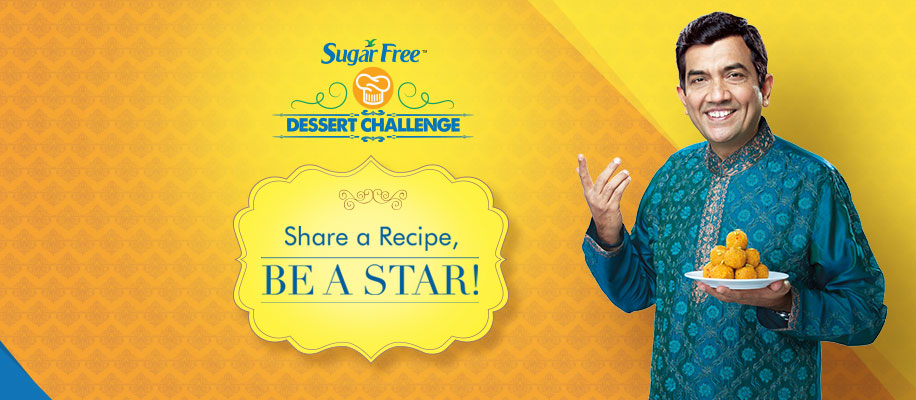 So, what's so special about this sweet? Well, it contains the essential nutrients and is pretty easy on the stomach, not to mention the added goodness of Sugarfree Natura will give it an edge over any other dessert. So without further ado, let me tell you the recipe of the "5 star barfi" directly from my mom's kitchen.
Ingredients:
| | |
| --- | --- |
| Gram Flour (Besan) | 1 Cup. |
| Milk | 1 Cup. |
| Coconut Powder (Nariyal Boora) | 1 Cup. |
| Ghee (Desi) | 1 Cup. |
| Sugar Free Natura Diet Sugar | ¾ Cup |
| Almonds, Raisins, Cashew. | 1 Tablespoon each. |

Method:
Before I begin, let me tell you that this is probably one of the easiest Dessert recipes that you'll come across, given that even I can make it. This is also one of the tastiest things you'll eat once it is ready.
First of all, take a big frying pan, and pour half of the Ghee in it and heat it on a medium flame.
Once the Ghee has melted and become hot enough, put the Gram flour and coconut powder and milk in it and start stirring it.
Make sure that you don't let any lumps form, once the mixture become homogenous, pour the remaining Ghee in it.
Keep stirring. And now put the Sugarfree Natura Diet Sugar and half of the dry fruits, mix it thoroughly.
Remember, do not let the lumps form, which is an important part of making any sweet. Heat the mixture till it starts getting a very light shade of brown, keep stirring the whole time to make sure the heating is uniform.
Once the mixture starts solidifying, that's your cue to lower the flame, give it 5 minutes and then take it out on a large dish.
Now garnish it with the remaining dry fruits and Kesar leaves, or anything else, use your imagination. Let it settle for around an hour.
Once the mixture has settles and become solid, touch it with your finger to see if there's still any softness remaining. If it doesn't stick to your finger, it's time to give the 'Barfi' the shape you want. Cut it with a kitchen knife and you have the world's best homemade mithai with you!
For Sugar Free Natura powder concentrate users please use 37½ measures of the special spoon provided in the pack.
And yes, this dessert contains Ghee, making it pretty digestive and nutritious, and it can be stored in a cool and dry place for up to a week and will stay fit for consumption.
Did I not tell you how it looks once it's done? Well, you've got to see this!
So, wasn't it amazing? There's so much more that you could do with SugarFree Natura. Do check out http://sugarfree-india.com/ for more.
Do tell me if you liked it, and I'll tell you the delicious homemade cake recipe next! 🙂