I wanted to sell my old phone; A Nokia E5. After seeing a lot of mentions here and there, I thought I'd give a try to an online selling website. I put my phone up there for selling and bam, 3 calls within the next 6 hours. I had no idea people were this willing to buy an E5! But no one was ready to pay the asked amount, so I decided to keep the ad live till I get a good deal. Now I got one call at 6 am in the morning. Okay, sometimes people do that, it woke me up for good. But what put me off was some other person calling at 1 AM!! I understand this doesn't happen usually but what if I am the unusual one, I mean my mom already thinks so!
Here's another case. One of my friends wanted to sell her old laptop online. The problem is, she didn't want to share her number due to some experiences in the past and I didn't want to put my number after the above experience. I could have put my number there had I been assured that I won't get unwanted calls or people trying to troll me. We ended up selling it offline to a shopkeeper just to realize later that we could have made around 3000 bucks more had we used the online way. So what went wrong? I am sure I wasn't at mistake here, and I am also sure that I simply love the way the online reselling portals work. In fact, my experiences with Quikr have been too good in the past, I managed to sell things I never imagined I could… realizing that almost everything in this world has a buyer, you just need the market, or in other words, Quikr.
So coming back to the question, what went wrong? I thought maybe I could just share my email id so that I could reply at ease. But then again, I am not the kind who checks his email that often. And before I could think of it, Quikr gave me a solution; Quikr NXT!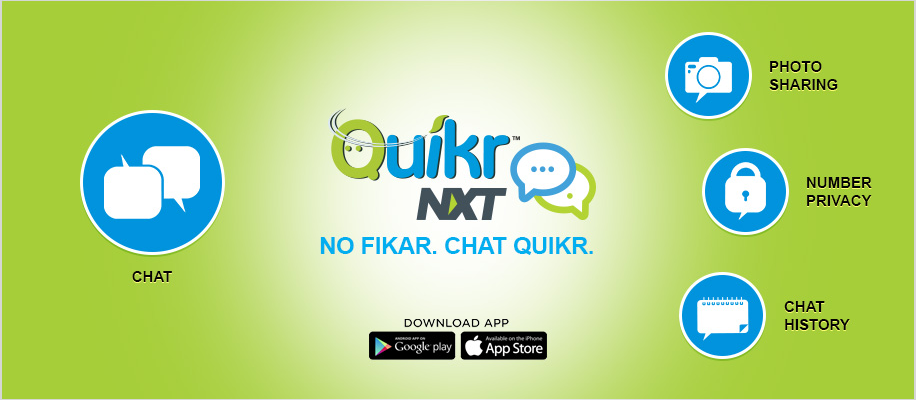 With Quikr NXT, you can simply chat with a potential buyer/seller without having to call unless you're sure this is the deal you want. It is extremely simple, you get the app, you put the product up online and chat with anyone who is interested. In the words of Quikr itself, "With Quikr Nxt, buyers and sellers can immediately connect with each other through chat across Quikr's mobile app, mobile site and even its desktop site. This feature will transform India's online classifieds market as it enables users to communicate with each other at their convenience and request more details about the product or service, without requiring a single phone call."
So why would I prefer chatting over phone? Simple:
I like to pick my own sleeping hours. Which may or may not include time at work (I can only hope my manager isn't reading this.). So I would obviously not like to be disturbed while sleeping. Now I could put my phone silent or switch it off. But I'd also not want to miss a potential buyer. Doesn't chatting eliminate all that and lets me choose the time of call? Cool huh!
I have meetings, outings and dates… erm… at least the first two. And getting a call in a meeting with the boss explaining something to me is like getting shot, just a little more painful. But here's a little secret, I do text in my meetings.
This is probably the most important one. Avoiding the trolls! While websites like Quikr are revolutionizing the markets and trying to do good things, there will always be people to simply take your number and call you to have fun without any intention to actually do what the website was made for. And those trolls my friend, waste your time and energy. Over chat, it is easy to know who the troll is and who's not. And you talk only to the serious ones, not the ones who'll give an address to oblivion to come and make the deal.
Look at this video and you'll know!

So these three reasons should explain my love of chat over phone, also I am a partial introvert, just like a major part of our population, we, the new generation, are the texting kings! Duh! Also, this all could be done simply on an app too!
With the Quikr NXT Experience, my life is getting easier, I hope yours is too. Tell me about your experience with Quikr NXT, and also check out the latest Refrigerator I am selling on http://www.quikr.com/, we could chat about it 😉